International Innovative Technologies Ltd.
IIT Research Capability Boosted by P&G Collaboration
Tuesday, 07 May 2013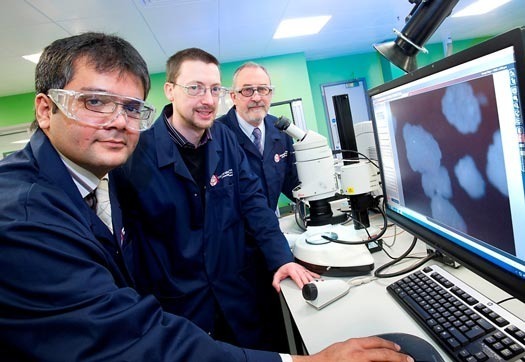 GATESHEAD (GB) - Milling specialist International Innovative Technologies LTd. (IIT) has established a special collaborative arrangement with the advanced powder and particle characterisation laboratory of one of the world's leading multinational companies.
The Proctor & Gamble Company has maintained a strong presence in the North East of England over a long period and its spirit of cooperation with the local business community means it has now given IIT access to its high technology materials testing laboratory.
P&G's Newcastle Innovation Centre is one of the world's most advanced analytical laboratories for powder and particle science. The centre's cutting edge research and innovation capability has been central to the development of numerous P&G products and brands over the years.
As part of the new arrangement, IIT will give P&G access to its full scale patented fine grinding facility in Gateshead for specialist R&D work on the reduction of bulk materials and hard minerals into fine powders.
IIT already operates a comprehensive in-house analytical and testing facility, but the special arrangement with P&G now gives the company access to the total technology spectrum of particle structure, moisture, size and thermal analysis capabilities.
In particular, as a result of this collaboration, IIT's material characterisation capability now incorporates scanning electron microscopy, powerful image analysis, surface science, and yield and flow analysis.
As a result, the company can now carry out the comprehensive and in depth analysis for all types of powders, raw materials and customer fine grinding requirements.
Tom Wilkinson chairman of IIT, said: "We are indebted to P&G for making this world class facility available to us. "The NIC research and analytical facility provides an invaluable extra resource for a company like IIT and we really appreciate P&G's spirit of cooperation in allowing us to use it.
"Access to this specialist technology will enable us to undertake in-depth analysis of powders and particles to help us to solve critical material issues on both live and prospective customer projects we are working on. This will give us a significant technical advantage in our marketplace." The patented m-series milling technology developed by IIT is a vertical milling system that utilises a special roller assembly and centrifugal forces in the material flow path to maximise grinding efficiency.
The IIT m-series technology is suitable for the low energy milling of a wide range of natural raw materials, minerals and industrial products, including aluminium oxide, silicon carbide, zirconium, limestone products' coal' glass, GRP, fly ash and different types of furnace slag.
© International Innovative Technologies Ltd.