International Innovative Technologies Ltd.
Low Energy Powder Milling and Classification by IIT
Friday, 15 August 2014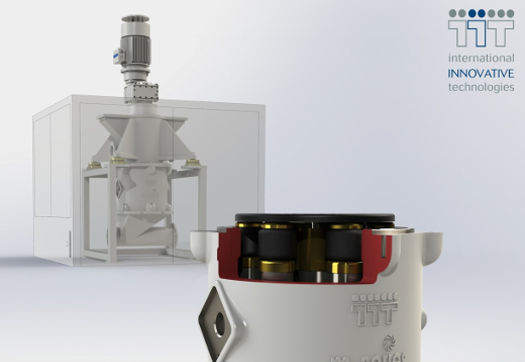 GATESHEAD (GB) - International Innovative Technologies Ltd (IIT) will be displaying its advanced technology for low energy powder milling and classification applications at the POWTECH 2014.
The patented m-series milling technology has been developed for the closely controlled fine grinding of a wide range of minerals and other industrial products including glass, metal oxides' calcium carbonate and limestone products' silicon carbide' fly ash' blast furnace slag and other materials.
The unique design of the vertical milling system means that extremely low electrical energy input is needed relative to the particle size and powder output volumes required.
In addition, the compact size of the system' a 'quick change' modular assembly and ease of maintenance also mean that a wide range of materials and different product streams can be efficiently handled by one milling system. This versatility is enhanced by multi stage grinding options and different grinding unit rotational speeds for the accurate control of particle size specifications of finished products.
The m-series system is available as a stand-alone milling system or can be supplied as part of a complete powder processing solution in combination with the IIT c-series dynamic air classifier and the s-series of high efficiency cyclones. The result is specialist powder processing technology that replaces traditional milling systems with compact, high output, modular units that are both economical to integrate into existing processes and highly versatile in their range of applications.
The IIT technology incorporates Siemens electronic process control and monitoring systems, and includes ATEX compliant versions.