Ajax Equipment
Inorganic Speciality Chemicals Maker Selects Ajax Equipment
Thursday, 20 October 2016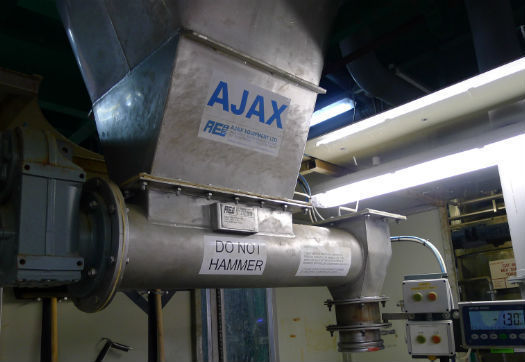 BOLTON (GB) - Ajax Equipment, has supplied a range of solids handling equipment as part of an upgrade of production facilities at William Blythe Limited, an advanced manufacturer of inorganic speciality chemicals based in Accrington, Lancashire.
William Blythe is an innovator in functional derivatives of copper, tin, zinc and iodine for a range of industries. Efficient powder processing is essential to the plant's productivity. Following powder testing by Ajax, the company has supplied a steep-walled, hopper and screw feeder, and valve, to regulate the flow of finished product. Together with an agitated screw feeder and hopper; and a 6.8m inclined screw elevator featuring a cone inlet, with metal screening and sieve, providing a dedicated elevator in place of a temporary elevator arrangement. All the Ajax equipment is supplied in 316L stainless steel.
Ajax has also provided a big bag discharger and sack tip chute mounted on a reactor vessel. It provides a closed, sealed workstation, with dust extraction, for an operator discharging bags of raw material into the vessel.
"Ajax Equipment's knowledge of powder handling has enabled us to streamline those processing areas where we had previously experienced problems. As a result, Ajax's solids handling equipment has boosted our packing rate and plant productivity," said Russell Iveson, Projects & Infrastructure Manager, William Blythe Limited.