Gericke AG
Gericke Continuous Mixing GCM
Monday, 01 May 2017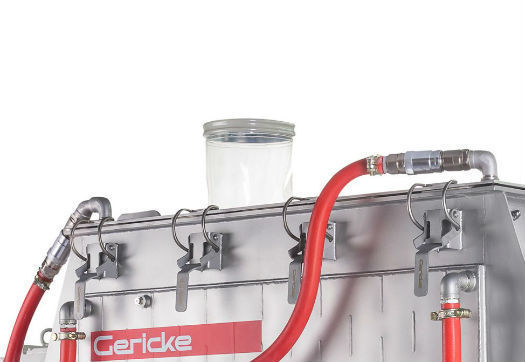 REGENDORF (CH) - Reduce costs by selecting a continuous mixing process for your powder processing.
Technology moves on and, contrary to popular opinion, continuous mixing processes are now not only cost effective but often they can outperform traditional batch processes in regards to mixing homogeneity.
Gericke's GCM series offer highly proven solutions - even for critical recipes such as blends of sugar with 0.6% to 0.8% pectin and citric acid. A continuous process solution can include, along with the mixer, loss-in-weight feeders and pumps for liquid addition. The GCM mixers can be cleaned quickly with fully extractable mixing tools and an easy access mixing chamber. Gericke always recommend a "safety by design" approach. This is a good example of that approach; the continuous mixer reaches a steady state condition. It does not need to be filled, emptied and filled again – thus eliminating many risks.
The continuous mixing process offers a number of other advantages, such as efficient process management, simple automation, low space requirements and low energy consumption per capacity. The continuous mixing process can include solid-solid mixing, heating and cooling, coating of solid particles, agglomeration and granulation, liquid injection, dispersion and much more. We are able to support you by undertaking trials, at industrial scale, to test the feasibility and selection of equipment. Gericke has fully equipped Test Centres available in Switzerland, France and in the UK.
Dr. Ralf Weinekötter │ Managing Director │ D +41 44 871 36 21 │ Skype r.weinekoetter@gericke.net Gericke AG │ Althardstrasse 120 │ CH-8105 Regensdorf │ Switzerland T +41 44 871 36 36 │ F +41 44 871 36 00 │ r.weinekoetter@gericke.net │ www.gericke.net
Frédéric Parinello │ Managing Director │ D +33 1 3998 2926 │ Skype fpgericke Gericke S.A.S. │ 7, rue Guy Moquet │ FR-95100 Argenteuil │ France T +33 1 39 98 29 29 │ F +33 1 39 82 29 74 │ f.parinello@gericke.net │ www.gericke.net
Colin Arlott | General Manager | D +44 161 308 6209 Gericke Ltd | Victoria House | Cavendish Street | Ashton-under-Lyne | Lancashire | OL6 7DJ | United Kingdom T +44 161 344 1140 | F +44 161 308 3403 | c.arlott@gericke.net | www.gericke.net