Dinnissen BV
Modular Mixer Installation: Security And Time Savings
Thursday, 04 May 2017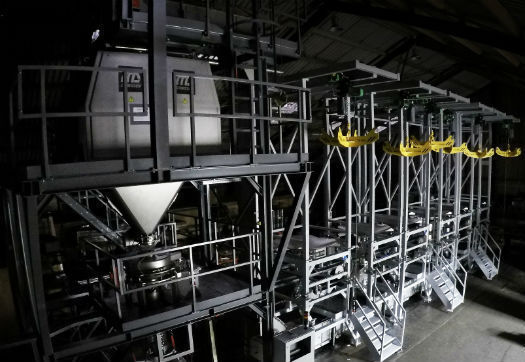 SEVENUM (NL) - Dinnissen has recently built a complete mixing plant for a German client, which includes six bulk bag unloading stations for the raw materials.
The installation was intended for their new plant in Asia and the client wanted absolute assurance that the system worked smoothly with their somewhat sticky raw materials. It was also necessary to set up the facility in Asia in a very short period of time.
The solution presented by Dinnissen consisted of a modular construction in a separate hall at their factory in Sevenum. The complete installation, 8 meters high, was assembled in a fully operational condition including wiring and controls. It consisted of a supply line with 6 bulk bag unloading stations, with the raw material dispensed through a Dinnissen Feeder Valve with 'loss-in-weight' dosing and transported to the Pegasus mixer by a bucket elevator. The final product was filled into bulk bags or containers.
All the process steps had already been tested in the tender phase by Dinnissen. This also included the FAT (Factory Acceptance Test) in the Netherlands, with four recipes and 20 runs. A genuine practical test. The entire installation, complete with platforms and stairs, was then disassembled and packed in seven 40ft containers and shipped. Upon arrival in Asia, the installation was assembled and commissioned by employees of Dinnissen's Asian partner and a Dutch supervisor of Dinnissen. In this particular case, the employees had already been to the Netherlands to work on the original factory assembly and the FAT. This ensured good service and support and prevented any unforeseen surprises at the final site assembly. In terms of control, the operating software had already been integrated with the site software, so that the commissioning would be made even easier.
This modular concept and a FAT in the Netherlands means Dinnissen can offer producers not only 100% certainty about the operation of the installation, but also significant time savings during the assembly and commissioning on site.